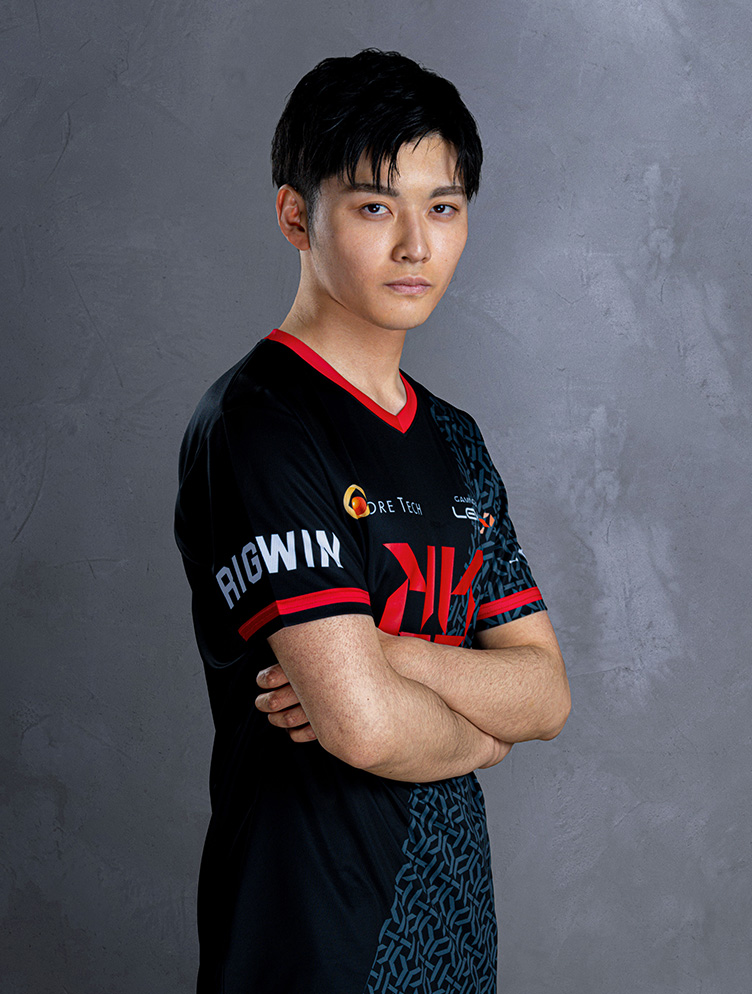 APEX LEGENDS DIV.
栗原
クリハラ
名実ともに日本一のジブラルタル使い。口癖は「やるしかねぇ」。
ランク配信を積極的に行っており、プロやストリーマーとの交友関係も広い。野良プレイヤーと会話しながら、ソロでマスターランク到達を目指す「のらはら」企画も大人気。
感情豊かな性格だが、音ゲーを得意とするなど器用な一面も持つ。
17歳でCoDを始める。Apex Legendsは当初PS4でプレイしており、プレデター常連だった。PCに移行すると同時に競技シーンに参入し、瞬く間にトッププレイヤーとして名を馳せた。
パーティの生存を左右する重要キャラ・ジブラルタルをメインで使用しており、ドーム(アビリティ)を駆使したファイトは目を見張るものがある。

APEX LEGENDS DIV.
栗原
Curihara
He is the best Gibraltar player in Japan both in name and reality. "やるしかねぇ=I've got to do it." is his style.

He is always streaming rank games and has a wide range of friendships with professionals and streamers. He is also very popular for his "Norahara" project, in which he tries to reach the "Master" solo que while talking with random teammates.

He has an emotional personality, but also has a practical side, such as being good at playing music games.

He started playing CoD at the age of 17, initially playing Apex Legends on PS4, where he was a regular Predator player; when he switched to PC, he entered the competitive scenes and quickly made a name for himself as a top player.
He mainly uses Gibraltar, a key character that determines the party's chances of survival, and his fights with his babble (ability) are spectacular.
2020年12月

ALGS Autumn Circuit Playoffs – APAC North

2nd
2021年2月

Japan Series 2021

1st
2021年2月

FFL Tournaments Season 4

1st
2021年2月

ALGS Winter Circuit #3 – APAC North

1st
2021年3月

ALGS Winter Circuit #4 – APAC North

1st
2021年3月

FAV CUP 2021

1st
2021年5月

Japan Colosseum – Qualifying Stages #A

1st
2021年6月

ALGS Championship 2021 – APAC North

4th